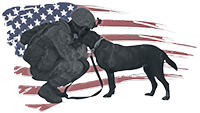 03 Jul

Warrior's Best Friend Foundation Receives $12,000 Grant from the Ford Foundation

Warrior's Best Friend Foundation recently received a grant for $12,000 from the Ford Foundation to support the direct cost of training and placing two facility dogs with the United Service Organization Chapters to support the Military and Family Life Counseling (MFLAC) program.

WBF will select and train two dogs for five months, preparing each canine and the handler to provide emotional support to the veterans, active military service members, and their families who access psychological services on the base. The dogs will be integrated into multiple activities and operations on the base, including regular visits at the military hospital, visits to the wounded transition battalion, outreach events for families and the communities the United Service Organization (USO) serves, and base K-12 schools.

This project will support the mental health needs of the military and their families. One in four veterans suffers from post-traumatic stress disorder (PTSD) or traumatic brain injuries (TBI), with devastating effects on veterans, families, and communities. Since 2001, more Iraq and Afghanistan war veterans have died by suicide than in combat. This request will allow two dogs to impact countless lives, supporting a stronger and healthier community where Ford employees live.

The mission of Warriors' Best Friend Foundation (WBF) is providing those who serve with support and companionship through the placement of trained facility dogs at K-12 schools, nonprofits, and military-related agencies. The specific purpose of the Operation Homestead project is to train and place dogs with military base units, or with chapters of the USO or Red Cross for the benefit of military service members and their families. Since 2012, WBF has provided service dogs at no cost to veterans who suffer the effects of PTSD, military sexual assault, and TBI. In 2018, WBF began training facility dogs to be placed in schools and nonprofits, on military bases, and with chapters of the United Service Organization (USO). WBF adopts homeless dogs and breeds Bernedoodle puppies to offer low-shed hypoallergenic characteristics for facility dog placements.

Contact Julie Assel, GPC, President/CEO to talk about how AGS can help your organization and the communities you serve.