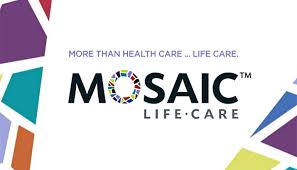 04 Jul

Mosaic Life Care Foundation Receives $100,000 Grant from the Patterson Family Foundation

Mosaic Life Care Foundation (MLCF) was recently awarded a $100,000 grant from the Patterson Family Foundation to support a portion of the Phase II Capital costs for their Cancer Survivorship Clinic. Phase II, the 9,000 square-foot Cancer Survivorship Clinic will feature an array of professional services and comfort for patients and families. New additions include a multi-purpose education room; expanded therapy services; wellness and exercise gym; spiritual health services; massage, acupuncture, and acupressure treatment; and a patient library. The capital budget includes general construction supplies and equipment, as well as technology improvements to increase virtual service capabilities for rural residents.

Most people know a friend, family member, or loved one who is or has been a cancer patient. Others have been diagnosed with cancer themselves. A cancer diagnosis invades the lives of individuals and their support system and creates a traumatic environment. According to the American Cancer Society, more than 1.8 million new cancer cases are expected to be diagnosed in 2020. Nationally, the death rate from cancer has declined steadily over the past 25 years thanks to lifestyle changes and advances in early detection and treatment.

However, trends show an increasing disparity between rural and urban populations, especially for certain preventable cancers such as lung, colorectal, and cervical cancers. Mosaic Life Care (MLC) understands and wants to provide as many opportunities as possible for information, education, and support, not only for patients but also for their families and friends. Too often, access to cancer care for people who live in rural areas usually involves long-distance travel to and from treatment, as frequently as treatment is prescribed. Further, people living in rural areas have higher average death rates for all cancers combined than those who live in urban settings.

Built in 1996, MLC's existing cancer center was designed to accommodate 60 patients, daily. Today, an average of 175 patients (120 medical oncology and 55 radiation oncology) are seen daily by the clinical staff. Along with patients receiving treatment for diagnosis, the Cancer Center serves survivors, family members of patients, and patients seeking preventative care. Due to age, daily use, program growth, and high traffic of patients, the facility has become outdated. The current footprint is overwhelmingly undersized, causing bottlenecks in operations and negatively impacting the patient experience.

In addition to the lack of access in rural communities, space constraints, and a projected increase of cancer incidence rates, analysis and best practices indicate patients would benefit from expanded services. However, the current facility has reached physical capacity to add services such as a behavioral health clinic, patient library and education services, survivorship programs, nutritional programs, and therapies such as physical, prehabilitation, rehabilitation, speech, and occupational. Best practices for high-quality patient experience in cancer care indicate supportive services are necessary to treat the whole person.

MLCF aims to raise the level of cancer care available in northwest Missouri, northeast Kansas, southeast Nebraska, and southwest Iowa. The level of expertise emanated by our doctors and nurses, technology, and treatment, will be reflected in our patient experience and facility aesthetic. The existing cancer center will be expanded and renovated to maximize space and provide new amenities for cancer patients and their families. MLC hopes to bring needed services and expert resources at the right time, in a healing environment, and close to home. This $24.6 million facility upgrade will optimize the benefits of the life-care model in treating the "whole patient," moving from disease treatment to treating the many challenges cancer patients face.

In 1982, Methodist Medical Center established a traditional, hospital-based foundation for the purpose of raising money to support hospital projects. In the early nineties, trustees of the Foundation began to recognize several compelling issues that were impacting our region's health including economic decline, below-average educational levels, poor lifestyle choices, population decline, youth outmigration, and fewer citizens engaging in community work. With this knowledge, trustees began looking for longer-term solutions to increase health outcomes for a 30-county region. With collaborative-based programs in place, MLCF took a leading role in pioneering community revitalization efforts to improve health and quality of life for those who live here. From this work came the vision for innovative programs like Healthy Communities and the emPower Plant. Both are unprecedented in their systematic approach to empower people and communities to effect positive change for their own lives and their communities. This foundation became the Heartland Foundation in 2000, and in 2019 it was renamed Mosaic Life Care Foundation (MLCF). In January 2020, the new MLCF suite opened at MLC at St. Joseph Medical Center. The Foundation's philanthropy department operates in the suite with a high presence to caregivers and patients.

Contact Julie Assel, GPC, President/CEO to talk about how AGS can help your organization and the communities you serve.