09 Jul

United States Department of Agriculture – Rural Cooperative Development Grant

The United States Department of Agriculture (USDA) recently opened applications for its Rural Cooperative Development Grant. USDA opportunities such as this can often be incredibly impactful – if not transformative – for rural communities. Let's take a closer look at the details for this program by answering some key questions.

What is the Rural Cooperative Development Grant?

The Rural Cooperative Development Grant (RCDG) is intended to improve the economic condition of rural areas by assisting in the startup, expansion, or operational improvement of rural cooperatives and other business entities. Cooperatives are essential to the U.S. economy and are particularly critical to the health of rural communities. Cooperatives not only help farmers and ranchers market their products, but they can also supply rural residents with important services such as electricity, telecommunications, financial services, housing, food, and building materials.

The USDA assists rural communities with forming new cooperatives or improving existing ones through such programs as the RCDG. This is an annual, competitive process that awards grants to Rural Cooperative Development Centers that provide technical assistance to individuals and entities. While the Rural Cooperative Development Center may be located in any area, the individuals and entities served by the project must be located in eligible rural areas.

Grant funding can be used to develop and operate a Rural Cooperative Development Center. These centers can provide such technical assistance and services as:
Conducting feasibility studies
Developing business plans
Providing leadership and operational improvement training
Facilitating strategic planning
The USDA expects to award 29 grants, with a maximum award amount of $200,000. The grant period is limited to one year and should begin no earlier than October 1, 2020 and no later than January 1, 2021. All project activities must be completed within the one-year timeline.
This grant requires a 25% matching fund requirement (or 5% for Native American tribally-controlled colleges and universities that earned land-grant status under an Act of Congress in 1994).
Who is eligible to apply?
Eligible applicants are private, public, or state controlled institutions of higher education, as well as nonprofits having a 501(c)(3) status. Only one application can be submitted per applicant.
What makes a project a good fit?
Potential applicants are encouraged to contact their USDA Rural Development State Office (contact information can be found here: http://www.rd.usda.gov/contact-us-state-offices) well in advance of the application deadline. Applicants can then discuss their project and ask any questions about the RCDG program or application process. Applicants will receive higher scores if they can demonstrate expertise and effective outcomes over the past 3-5 years of providing technical assistance to individuals and organizations.
The USDA encourages proposals that will support recommendations made in the Rural Prosperity Task Force report (www.usda.gov/ruralprosperity). Applicants are encouraged to propose projects that engage strategic investments in infrastructure, partnerships, and innovation to build and strengthen rural economies. Strategies include 1) achieving e-connectivity for rural America, 2) developing the rural economy, 3) harnessing technological innovation, 4) supporting a rural workforce, and 5) improving quality of life. The USDA infographic below provides further examples of these strategies and the Rural Prosperity Task Force's recommendations.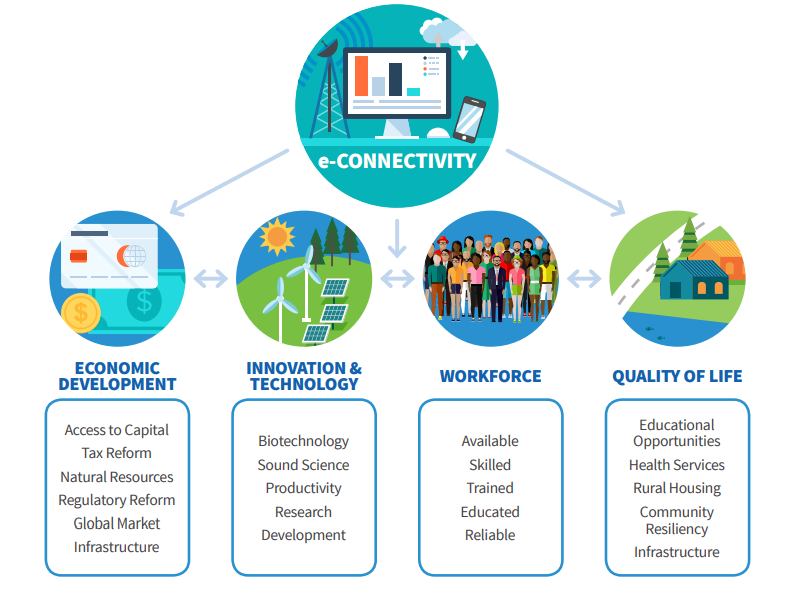 What if I am ready to apply?
The deadline will be here soon! To move your application forward, take the following action steps ASAP:
Make sure your System for Award Management (SAM) registration is active and be sure you have a Grants.gov profile. You can check your SAM status here: https://www.sam.gov/SAM/pages/public/searchRecords/search.jsf.
Reach out to your USDA Rural Development State Office to discuss your potential project.
Begin gathering letters of support/intent from agency partners such as government entities (you can include up to 10 letters in your application). It is important that projects show strong local and future support for their initiatives.
Identify what you will use for your cash or in-kind budget match.
What if I need help with this application?
AGS has a qualified team of grant professionals who have recently written awarded USDA grants. Our team can help with all aspects of preparing the application and managing the grant if you are awarded. If you think you may need assistance preparing this application contact Assel Grant Services as soon as possible. Rosie Brennan, Community Engagement Specialist will be happy to talk with you about this opportunity and provide you a quote for grant services.
What if I am not ready to apply this year?
Start planning ahead for next year's round. Speak with your USDA Rural Development State office to gather their thoughts and support. Reach out to the individuals and entities that your Rural Cooperative Development Center serves or will serve to hear their thoughts for how this project could provide the most impact. Read up on the Rural Prosperity Task Force's efforts – they identified over 100 recommendations for how the federal government could help improve life in rural America.
Competency #1: Knowledge of how to research, identify, and match funding resources to meet specific needs
Skill 1.2: Identify major trends in public funding and public policy
Skill 1.6: Identify fundable programs and projects for specific organization
Skill 1.7: Determine best matches between funders and specific programs