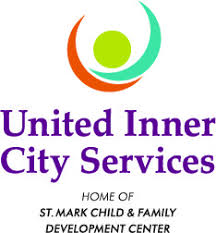 26 Nov

M.R. & Evelyn Hudson Foundation Awards $40,000 Grant to United Inner City Services (UICS)

United Inner City Services (UICS) recently received a grant for $40,000 from the M.R. & Evelyn Hudson Foundation to support the Arts@St.Mark initiative which infuses the arts into the St. Mark Center's learning environment and offers community experiences in the arts.

Funds will be designated for Arts@St.Mark and will support a full-time arts educator, daily arts instruction, teacher training, and family engagement activities for children ages six weeks to five years with activities designed to align with developmental needs.

A growing body of research finds that arts integration supports academic achievement and social behavior. Arts-integrated preschool experiences result in increased school readiness for low-income students and may serve to equalize educational opportunity (Brown & Sax, 2013). The arts can engender creativity, build confidence, develop problem solving abilities, and encourage collaboration. These benefits are magnified for low-income students who often enter kindergarten behind their advantaged peers.

United Inner City Services (UICS) is a multi-service community based agency that has served Kansas City, Missouri's 12th Street corridor since 1967. Over the years, UICS has addressed the issues of the urban core including employment, emergency assistance, housing, violence intervention, early childhood education and youth services.  UICS serves as a neighborhood anchor, providing a safe, warm, and inviting site for a variety of social services, early education programs, community arts programs, and neighborhood outreach.