12 Oct

Let's Go Shopping! Ethics in Procurement, Part I by Whitney Gray, MA, GPC

We live in a world where, as consumers, we can purchase literally anything with a quick search and a few clicks. The rise of online shopping and next-day delivery has made it easier than ever to go on a shopping splurge without seriously weighing the costs and benefits of the newest gadget or the impact it will have on our personal finances.

When a grant is awarded to an organization, the program staff may enthusiastically load up their online shopping carts with everything outlined in the grant budget. There is certainly a time and place for efficient procurement of approved supplies and services. In fact, federal law requires grantees minimize the time elapsing between the receipt of grant funds and the payment for allowable expenditures (2 CFR 200.305(b)). It is important for program staff to quickly implement the grant award, and typically, this means doing a little shopping.

As grant professionals, it is our ethical responsibility to understand the applicable laws and guidelines which govern procurement under grant awards. Likewise, it is our ethical responsibility to temper our organization's spending enthusiasm and instead lead the development of policies, procedures, and practices that ensure compliance with funder regulations, eliminate inappropriate expenditures, and navigate potential conflicts of interest.

Whether or not your organization accepts federal grants and contracts, it is advisable to familiarize yourself with Title 2, Section 200 of the Code of Federal Regulations (2 CFR 200) which details the uniform administrative requirements, cost principles, and audit requirements for federal awards. Best practices dictate that your organization's procurement policies and procedures are developed in alignment with this standard (2 CFR 200.318(a)).

Getting Started

The first thing the grant professional must know and understand is what constitutes a legal grant expense. Different funders will have different guidelines. A good, generic standard supported by federal law is the JAR method – justifiable, allocable, and reasonable (2 CFR 200.403-405).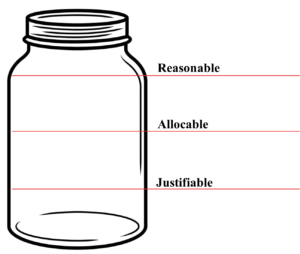 Justifiable – Is the expense necessary and reasonable for the performance of the grant award and its outlined activities?
Allocable – Can all or a part of the expense be directly allocated to a specific activity or objective within a specific funded project?
Reasonable – Would a prudent person think the type and amount of the expense is reasonable, ordinary, and necessary for the funded project and for the awardee organization?
The organization's financial management and procurement policies and procedures should outline a method by which the organization determines if a grant is expense is legal. If there is any question or doubt about a specific expenditure, always seek the guidance of the program officer before making the purchase.
The grant professional engaged in post-award management activities should also know the funder's guidelines regarding purchasing thresholds and the associated procurement standards. The grant professional is ethically bound to assist the organization in developing and implementing procurement policies and procedures in accordance with applicable laws. Again, using the federal regulations as the standard is wise.
Micro-Purchase – $3,000 is set as the federal threshold for the aggregate amount of supplies and services purchased with an organization's small purchase policies to relieve the burden of time and cost to the organization (2 CFR 200.67).
Simplified Acquisition Threshold (SAT) – Federal grantees may adopt small purchase procedures for allowable expenses under $150,000 to expedite purchasing and grant implementation (2 CFR 200.88).
Small Purchase Procedures – Small purchase procedures are those relatively simple and informal procurement methods for securing services, supplies, or other property that do not cost more than the SAT. If small purchase procedures are used, price or rate quotations must be obtained from an adequate number of qualified sources. The following chart is intended to serve as a starting point as you develop and/or update your organization's purchase and procurement policies and procedures.
Expense Amount
Expense Type
Procurement Best Practice
Aggregate cost < $3,000
Micro-purchase of supplies and services
Project director reviews and approves expense; follow organization's regular expense and reimbursement procedures
Aggregate cost < $5,000
Small purchase of supplies and services
Unit or aggregate cost < $150,000
SAT for purchase of supplies and services
Project director and CFO review and approve expense; adequate number of quotes should be collected; follow organization's regular expense and reimbursement procedures
Unit or aggregate cost > $150,000
Large purchases
RFP and three-bid minimum procedure; all bids reviewed by relevant personnel; Project director, CFO, and CEO select vendor and approve expense(s)
If you are ready to develop or update your organization's procurement policies and procedures for grant awards, Assel Grant Services has prepared a helpful checklist. You may download this checklist for FREE and use it to assist your organization in its grant-related, federal procurement compliance policies and procedures.
Don't miss "Let's Go Shopping! Ethics in Procurement, Part II" for information on navigating potential conflicts of interest and for a FREE vendor evaluation form.
Competency #6: Knowledge of nationally-recognized standards of ethical practice by grant developers. Skill #06: Identify unethical and illegal expenditures in a budget.
Competency #5: Knowledge of post-award grant management practices sufficient to inform effective grant design and development. Skill #01: Identify standard elements of compliance. Skill #05: Identify effective practices for key functions of grant management.
Additional blogs in our Ethics series:
Let's Go Shopping! Ethics in Procurement, Part II by Whitney Gray, MA, GPC
What if You Have Too Much of a Good Thing? by AGS Staff
Don't Just Write It, Cite It: Ethical Research in Grant Writing by Leah Hyman, GPC
Building an Ethical Foundation for Your Funder Relationship by AGS Staff
Above All Else, You Must Be Honest By AGS Staff